Welcome to La Cresta!
Focusing on large specimen trees, including Oak trees, Olive trees, and Pine trees. Fallbrook, California based La Cresta Tree Company is the premier big tree nursery in San Diego County. La Cresta provides consulting, sales, and service for large tree moving, tree sales, tree maintenance, and tree landscaping projects for commercial, residential, and governmental customers in California, Arizona, and Nevada. Having its own fleet of cranes, specially designed boxes, flat-bed trucks, and several tree farm locations. La Cresta enjoys a unique niche among big tree nurseries in growing, selling, and/or transporting large trees.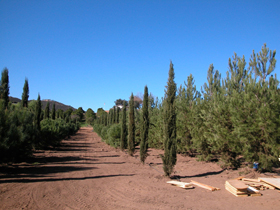 One of our growing grounds in San Marcos, CA. All of our specimen material is field grown and then boxed out of the field as it becomes ready for the size that is required.